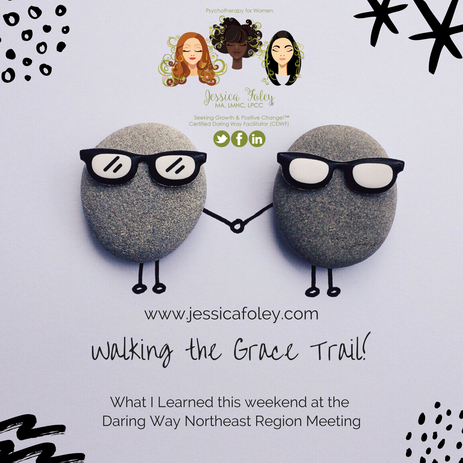 This weekend was the Daring Way™ Northeast Weekend gathering, and we learned so much from speaker Ann Jolles, creator and author of the "Grace Trail".  There was a lot of laughter, food, tears, dancing, yoga, Starbursts, and discussion, and it was good to be with my fellow Daring Way™ leaders.  On Saturday morning, our group heard from Ann all about the inception of the Grace Trail, and what it is meant to do.  I was really enamored with the process and even purchased a deck of cards to help walk through the process.  
Ann openly shared the struggles that lead her to a crisis, and eventually to a process she developed that gave her a sense of hope and clarity.  What the heck is the Grace Trail?    According to Ann, the Grace Trail is about walking (actually walking, or metaphorically) & asking yourself the following questions:  
The 5 Grace Trail Words and Questions:
Gratitude: What am I Grateful for?
Release: What do I need to Release?
Accept: What is calling out for Acceptance?
Challenge: What is my next Challenge?
Embrace: What can I Embrace as possible?
In several locations around the world, there are now physical trails, just like the one Ann originally developed in Plymouth, MA, and small, smooth beach rocks are carefully messaged and exchanged on the trail.  I just love this idea.  Ann is clearly a special lady and passionate about the change that this process creates in people.  
At the end of our time together, we all got to make our very own rock, with a message that we needed.  Here's mine below.  I hope you check out the Grace Trail for yourself and see what this kind of introspection can bring you!