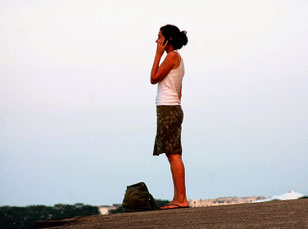 Facebook, Twitter, Yelp, Instagram....I probably check that darn phone a million times a day.  It's become kind of luck an addiction.  But I've realized, like many of us, being so connected leaves me feeling alone.  Because it's NOT true connection.  This might not be true for everyone, but I find that having designated "unplug" time from all devices is aahhhhmazing.  Really! 
When we put the phone away-and turn it off-it's pretty amazing how we can slowly come back to what's real.  It's not my BFF's latest Facebook update...it's looking her in the eyes while we put our feet in the pool.  Getting a hug from my husband.  Petting my dog. 
I encourage you to think of it like ritual.  It may be foreign.  It may be weird at first.  But I promise that unplugging will lead to more of what you're really seeking-being connected all the time.  Therapy can help you learn to connect better!  Reach out today to start your path to connection!